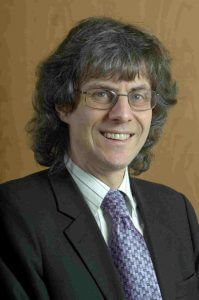 Contact Details
Dai Davis, Partner, Percy Crow Davis & Co and Chartered Engineer
Telephone: 07785 771 721
E-mail: daidavis@iee.org
Introduction
Dai Davis has been a specialist Information Technology lawyer for thirty years.  Having started his career at the Leeds precursor to international law firm Eversheds Sutherland, he became a partner and rose to become national Head of Intellectual Property law and subsequently national Head of Information Technology law at Eversheds.  He then headed the Intellectual Property and Information Technology Group at Nabarro in the North for over eight years.  He now works in his own specialist practice, Percy Crow Davis & Co.  Dai has a reputation as an Information Technology Lawyer both nationally and internationally.  Indeed, Dai has been consistently recommended in Chambers & Partners and Legal 500 directories for most of the last three decades.
Dai is a Freeman of the City of London through the WCIT (Worshipful Company of Information Technologists) and a non-executive director of FAST (The Federation Against Software Theft).
Dai specialises in non-contentious IT projects and advisory work.  He is involved in preparing standard terms and conditions, distribution, agency and other types of collaboration agreements, as well as web based trading terms.  Dai gives strategic advice as well as undertaking work that is of a more transactional nature.  He is involved in transactions of all sizes, including some major transactions, particularly IT outsourcing transactions in which the transaction value is high.
Dai acts for many suppliers of Information Technology solutions as well as buyers of Information Technology systems.  While most buyers for whom Dai acts are larger quoted and unquoted companies, or at least organisations of equivalent size, many of Dai's IT supplier clients are owner managed businesses or privately owned.
He works with litigators on IT litigation matters.  Although he works with clients who are involved with all types of technology, Dai has super-specialist knowledge in two niche areas of Information Technology law: safety critical systems (such as those in the transport and chemical sectors) and IT security.  He has advised on cutting edge technology including the Internet of Things, Smart Meters, Digital Currency and Bring Your Own Device.
Dai has the added benefits of masters degrees: one in Physics and the other in Computer Science.  He is also an active member of the Institution of Engineering and Technology ("IET").  His expert knowledge of technology has led Dai to become a sought-after speaker on technology law subjects.  He has chaired an International Standards legal advisory committee for over a decade and is a recipient of the International Electrotechnical Commission's 1906 award.  He is a past Council member of the Society for Computers and Law.
Specific Transactions
Examples of Information Technology law work in which Dai has been involved in recently are:
Advising various software companies on the establishment of distributors or agents for their software inside and outside the United Kingdom including in countries such as Australia, India, Japan, Scandinavia and United States of America.
Advising a specialist software developer on a development project for a major football league.
Advising consumer web sites on their trading terms and conditions and site set-up, including web sites supplying electronics, computer equipment, computer services, heating equipment, disability equipment, caravans as well as a general trading site.
Acting for both a major international insurance company and a large UK based insurance broking company on several high value strategic software licences and acquisitions, including on the purchase of the source code version of software from a licensor.
Advising a number of clients whose businesses are in the specialist fields of safety critical systems and IT security on a wide variety of commercial contracts.
Advising general software developers on a variety of development contracts including for housing associations, hotel booking systems and property development.
Advising a supplier of used (i.e. second-hand) software on numerous issues concerning European based rights to re-distribute used software.
Advising a social media company on consumer related terms and conditions, liabilities and data collection issues.
Advising educational establishments on the procurement of a variety of software.
Advising a variety of software suppliers on the drafting of EULAs (End User Licence Agreements), also advising large software licensees on the terms of EULAs proffered by software licensors.
Advising a number of companies on the application of data protection law including in relation to very large data sets (so called "Big Data") and including the new European Union GDPR (General Data Protection Regulation).
Advising a supplier of social media analysis software on contract terms with large corporate users.
Advising a cloud service supplier providing document and data processing solutions on business-to-business terms and conditions of trading.
Advising on a joint venture between two commercial organisations developing a high-profile consumer app for supermarkets.
Advising several specialist IT companies on the impact of Brexit on their businesses.
Advising a telephone software management company on a sub-contracting dispute and revising its business-to-business standard terms and conditions of trading.
Drafting standard terms and conditions for procurement for use in purchasing cloud computing services for a large commercial organisation.
Advising businesses on investigations by software licence owners such as Microsoft and IBM, including representatives of owners such as BSA (Business Software Alliance).
Advising a software development company on the concepts protected by copyright and confidential information in another company's products to avoid infringement in the creation of a competing product.
Undertaking due diligence exercises on Information Technology assets (including licences) on the procurement of businesses (both directly and on the sale of shares) for business angels, private buyers, venture capitalists and listed company acquirers. Also advising vendors in preparation for such due diligence exercises.
Advising a web development company, defence related company and various software companies on the protection and exploitation of patentable inventions.
Advising a supplier of safety related software on a joint venture between themselves and three funders around the world in respect to the co-development between the English company and a US company of simulation software.
Advising a public authority on the variation and subsequent termination of a business-critical outsourcing agreement.
Advising companies on the lawful relicensing of used software.
Advising a company on the procurement of a significant amount of hardware, software and services to establish a private wireless system spread over a large geographic area.
Advising start-up companies in the Information Technology field on specialist Angel and Venture Capital funding sources.
Further Information
In addition, Dai has had considerable experience advising in the specialist area of safety related Information Technology systems and on related European technology regulations such as the Machine Safety Directive and the Electromagnetic Compatibility Directive. He has advised companies of all sizes on this highly specialised and technical area including: Alstom, A-Pex Industries, CSE International Limited, Daniel Europe Limited, Dyson, Eutech Engineering Solutions, Finlux, Harris Semiconductors, Hazards Forum, the Institution of Engineering and Technology, Intel, Inventica Technologies, ITH Pharma Limited, Laidler Associates, LDV Limited, Lloyds Register, NEC, Pace Micro Technology Limited, Schaffner, Schlumberger, Siemens, Tandberg Educational Limited, TRW Limited, Tyco Industries, Vax, West Pharmaceuticals and York University.
Dai Davis is a qualified engineer. He is the convenor of the International Electro-technical Committee TC56 – Legal Advisory Group (IEC TC56 being the organisation which is responsible for drafting international maintainability and dependability standards for technology products).
Dai Davis gave public seminars recently for organisations including the Society for Computers and Law, British Computer Society, Central Law Training, the IET (Institution of Engineering and Technology), MBL seminars, Licensing Executives Society, IFCLA (International Federation of Computer Law Associations), IIA (Chartered Institute of Internal Auditors), 44Con, ISSA (Information Systems Security Association), The Law Society, ISACA (Information Systems Audit and Control Association), FAST (Federation Against Software Theft), TEISS (The European Information Security Summit), FST (Financial Services Technology) Secure Information Conference, Falconbury, SMi, Butterworths, GA Training, CNet Training and Unicom as well as numerous private paid-for presentations to larger companies.
Dai has been an active member of the Licensing Executives Society Laws Committee (the main organisation in the United Kingdom representing Intellectual Property licensing practitioners) for many years. For fifteen years, Dai has been on the governing Council of the Licensing Executives Society (primarily as an IT law expert).  Recently he has been treasurer of that Society.  He is a past chairman of the IT & E-commerce group of that Society and until recently served as Treasurer of the Society.  He has been for nearly three decades and continues to be an active committee member of the Society for Computer & Law (Northern Branch), during which time he has also been chair of the Northern Branch and served on the national committee of the Society.
In recent years, Dai has been featured or quoted in a number of publications on IT and IP related matters including: BBC News, Financial Times, The Guardian, Financial Sector Technology magazine; Computer Weekly, The Register, Computer Reseller News, Channelnomics Europe, Practical Audit and Accounting, CIOFutures.com, Computing, FSTech, Huffington Post, World On-Line Gambling Law Report, LES News Magazine, Retail Technology Magazine, Privacy Laws & Business, Leeds & Yorkshire Lawyer and the Municipal Journal. He has also given comment on air to BBC World News and the Voice of Russia and made a podcast for the Yorkshire Post.  Several of his talks can be viewed by searching at http://tv.theiet.org/ and others are available at http://www.youtube.com/watch?v=2gT11kBb2-8&feature=plcp