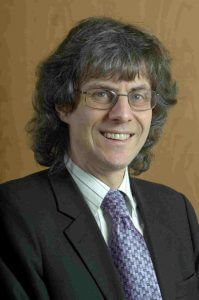 Contact Details
Dai Davis, Partner, Percy Crow Davis & Co and Chartered Engineer
Telephone: 07785 771 721
E-mail: daidavis@iee.org
Introduction
Dai has been a specialist Technology Lawyer for thirty years.  Having started his career at the Leeds precursor to international law firm Eversheds Sutherland, he became a partner and rose to become national Head of Intellectual Property law and subsequently national Head of Information Technology law at Eversheds.  He then headed the Intellectual Property and Information Technology Group at Nabarro in the North for over eight years.  He now works in his own specialist practice, Percy Crow Davis & Co.  Dai has a reputation as an Information Technology Lawyer both nationally and internationally.  Indeed, Dai has been consistently recommended in Chambers & Partners and Legal 500 directories for most of the last three decades.
Dai is a Freeman of the City of London through the WCIT (Worshipful Company of Information Technologists) and a non-executive director of FAST (The Federation Against Software Theft).
Dai advises clients on intellectual property, computer and technology law including such topical matters as the Internet of Things, virtual currency, e-Commerce, IT Security and Cloud Computing issues.  He is primarily a non-contentious lawyer, specialising in advising on commercial agreements relating to software and technology products, including outsourcing agreements and web-related contracts.  He also has considerable experience advising public bodies on data protection and freedom of information issues.
A third "super specialism" that Dai has is what can most easily be described as high-tech product safety.  This involves advising on such technical legal matters as the law relating to CE Marking as well as advising on the practicalities of product safety and product recall.  In the latter area Dai has considerable experience in the area of crisis management.  Being an Electrical Engineer, Dai is often involved in highly technical aspects of product safety which other lawyers are not able to advise upon.
Dai is the convenor of the International Electro-technical Committee TC56 – Legal Advisory Working Group (IEC TC56 being the organisation which is responsible for drafting international maintainability and dependability standards).  He therefore has considerable exposure to the drafting, interpretation and legal effect of standards.  He has detailed experience on advising on the interaction between standards and the law, particularly in the area of CE Marking.
Dai is a regular conference speaker and contributor to legal and technology journals.  For the last decade, he has been a Council Member of the Licensing Executives Society of the United Kingdom, a body of professionals dealing in intellectual property licensing.  Dai is also a Fellow of the Royal Society for the encouragement of Arts, Manufactures and Commerce.
Dai has the added benefits of masters degrees: one in Physics and the other in Computer Science.  He is also an active member of the Institution of Engineering and Technology ("IET").  His expert knowledge of technology has led Dai to become a sought-after speaker on technology law subjects.  He has chaired an International Standards legal advisory committee for over a decade and is a recipient of the International Electrotechnical Commission's 1906 award.  He is a past Council member of the Society for Computers and Law.
Summary of Experience in CE Marking, Product Safety and Product Recall Matters
Note: due to the sensitive nature of the work given, this experience is deliberately presented in a way in which the work done for individual clients cannot be identified.
Advising on the law relating to CE Marking involving the following European Union Directives and corresponding United Kingdom Regulations: Active Implantable Medical Devices; Construction Products; Equipment for use in Potentially Explosive Atmospheres (ATEX); Electromagnetic Compatibility; Gas Appliances; (In-Vitro) Medical Devices; Lifts; Low Voltage (Electrical Safety); Machine Safety; Measuring Instruments; Medical Devices; Non-Automatic Weighing Instruments; Personal Protective Equipment; Radio and Telecommunications Terminal Equipment; Simple Pressure Vessels; Toy Safety.
Advising electronic, medical, textile and electrical companies (including so-called white and brown goods manufacturers) on highly sensitive product recall campaigns and related product safety issues, both in the consumer and business-to-business environments.
Advising electronic, medical, textile and electrical companies (including so-called brown and white goods manufacturers) and standards bodies on disputes as to the applicable standards, distributor and supply chain quality and conformance issues and issues regarding the unlawful importation of contravening products.
Advising foreign manufacturers on the applicable legislation and on how to lawfully modify products so as to be caught or exempted from the legislation.
Advising on the classification of Medical Devices under the Medical Devices Regulations.
Reading and settling product safety notices on a range of products which if misused could be injurious to human health.
Advising intermediaries such as retailers and a major national charity on liability for products bearing their name and advising on a recall of a range of products bearing the charity's name and the associated "crisis management".
Assisting in the negotiations for claim settlements arising out of product liability incidents for both claimants and defendants.
Advising on disputes within supply chains including in challenging positions adopted by trade associations; also advising trade associations on safety related matters.
Companies advised include Admiral Computing, Alstom, Babcock International A-Pex Industries, Astra Zeneca, BEAB, British Coal (UK Department for BIS), CSE International Limited, Celltran Limited, Daniel Europe Limited, Dyson, Eutech Engineering Solutions, Finlux, 4Eco, Harris Semiconductors, Hazards Forum, Institution of Engineering and Technology, Intel, International Wool Secretariat; Inventica Technologies, ITH Pharma Limited; Keanes Limited, Kirkstall Limited, Komfort, Laboratory Accreditation Services Limited (trading as KTL), Laidler Associates, LDV Limited, Lloyds Register, NEC, Pace Micro Technology Limited, Penguin Books, Phoenix Technical Group, Schaffner, Scisys, Schlumberger, Siemens, Tandberg Educational Limited, TP Orthodontics Inc, TRW Limited, Tyco Industries, Vax, West Pharmaceuticals and York University.
Dai has lectured widely on Product Recall and Product Safety matters. He has also written and had published over 30 articles in this area, including for magazines such as Approval, Butterworths Tolley Health & Safety Update, Compliance Engineering, Computer Weekly, Computing, Croner, IET (Institution of Engineering and Technology) Review, Motor Transport, Plant & Works Engineering, Retail Technology, Risk Technology, Safety Critical Systems Club Newsletter and The Register.